About Us - &nbsp About Our Company
AJH Design was founded in late 2010 and is strategically located in Elmira Heights, New York positioned well to serve the northern tier and central Pennsylvania and the Southern Tier and Finger Lake region of New York State. Andrew Harding, the owner of AJH Design has 16 years of experience with municipal and public funded projects. He and his team have worked on a variety of projects for local townships, various counties, and the Commonwealth of Pennsylvania. We are familiar with the requirements of publicly funded projects and understand the effort required to make them a success. Our firm is very responsive to the needs of our clients and we work throughout the project to ensure their goals are met. We have very good knowledge of building construction and can work with the selected contractors to provide a cost effective solution that meets the needs of our customers. AJH Design prides itself in being able to provide a clear, comprehensive set of design drawings. On the majority of our projects the bids received have been within the project budget with most of them below budget allowing for additional alternates to be allowed under the contract. We are a customer centered business and work diligently to provide a project that meets our client's expectation and ensures the contractor is providing the quality that is expected.
AJH Design is currently comprised of five (5) full time staff members. Our focus is on architectural design. Our projects range from residential additions and new homes to commercial projects consisting of many markets including: business office, retail, educational, municipal, and multi-family housing. We also work on industrial projects for various research and manufacturing clients. AJH Design has a select group of trusted consultants that we sub-contract mechanical/electrical, structural, and civil work to when needed.
Featured Projects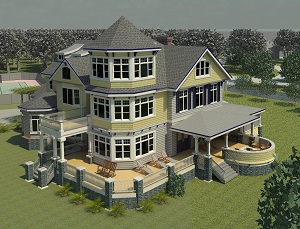 Contact Us
111 East 14th Street
Elmira Heights, New York 14903
607.737.4638
607.767.6115 (fax)
Email: info@ajh-design.com